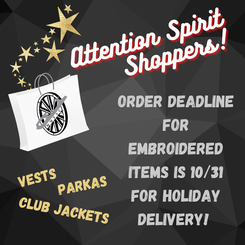 Hey Spirit Shoppers! Due to the length of time it takes to embroider items, the Wagon Wheel Spirit Shop will now be working within "embroidery windows" to ensure that you get the items you want in a time frame you can count on. As such, our embroidery window leading up to the December holidays will be closing on October 31st.
What does this mean? 
If you were considering a Wagon Wheel jacket for yourself or your skater as a holiday gift, now is the time to order! The next embroidery window will open in January with a spring delivery date. 
We are also working on a Holiday Pop Up Shop with cozy options to complement the rest of our online store, so stay tuned for those limited time items as well! 
Visit the Shop at ---> https://downthestreetapparelshop.com/wagon-wheel/