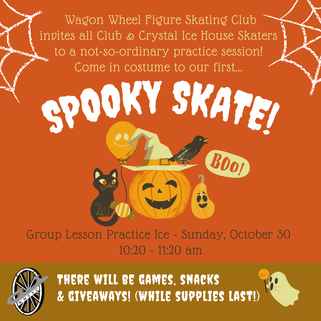 Calling all WWFSC skaters! We are spook-i-fying our home rink's group lesson practice ice on October 30th from 10:20am-11:20am and hope all of our Wagon Wheel ghouls and guys can join the party! Leave your lair and join us in costume (and skates!) at the Crystal Ice House for games, snacks, and giveaways!
Don't worry, there's nothing to be spooked about - practicing with the Club is FUN!
WHO: Wagon Wheel members and Crystal Ice House skaters in SPS through Freestyle 6
WHERE: Crystal Ice House
WHEN: October 30 from 10:20am-11:20am
WHY: To have some FUN!